Take your Northern Lights Gin Liqueur, add fresh lime and sugar syrup, pour over crushed ice and decorate with lime swirls and crushed blueberries.
Icelandic Glacier Cocktail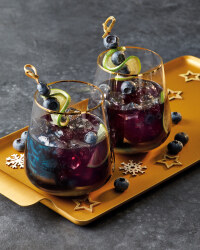 Recipe Information
Ingredients
50ml Northern Lights Gin
20ml Lime juice
20ml Sugar syrup
2 tbsp Blueberries
Garnish With
Lime
Method
Shake the gin, lime juice and sugar syrup over crushed ice, or in a blender pour and add lime slices and blueberries.
For the lime garnish, thinly slice a lime then lay the slices flat.
Make a cut halfway through the slice, pick it up, pull the two sides of the slit away from each other and fold around to create a twist.
Thread a blueberry on to a cocktail stick, followed by the first section of your lime twist, continue this until the stick is full.