Individual Beef Wellingtons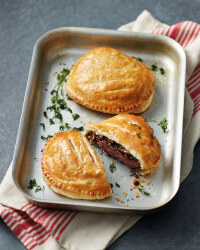 Recipe Information
Ingredients
1 Shallot
2 Cloves of garlic
1 Pack button mushrooms
Olive oil for frying
1 Fillet steak
4 Slices of parma ham
Dijon mustard
Salt
Pepper
1/2 Roll puff pastry
1 Egg for egg wash
Note. This recipe is to serve one so multiply the ingredients by the number of guests. 1 egg will egg wash 5 wellingtons.
Method
Dice the shallot and mince the garlic.
Finely chop the button mushrooms.
Add the oil to a frying pan over a medium heat and gently cook the shallot and garlic.
Once softened add the mushroom and cook down until as much of the moisture as possible has been cooked out without burning the mushrooms.
Allow to cool.
In a hot pan seal the seasoned steak on each side achieving a browned appearance. Spread the Dijon mustard on all sides of the steak.
Lay out the parma ham on some clingfilm, overlapping the slices - this will help to wrap the steak. Spoon the mushroom mix on to the parma ham.
Place the fillet steak on the mushrooms and wrap in the ham and mushrooms. Remove the clingfilm.
Roll out the pastry and place the wrapped steak in the middle. Fold over the pastry sealing the edges and trim around the edges with a knife.
Score the top of the pastry with a sharp knife and egg wash.
Allow to rest in the fridge for 20 minutes.
Preheat the oven to 200c.
Cook for 15 minutes and check. The pastry should be golden and cooked. If you have a thermometer the core temperature of the meat should be 40 degrees.
Once cooked remove from the oven and allow to rest for 10 minutes.