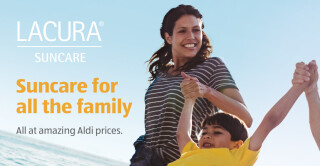 Stay safe with Lacura Suncare
Aldi's suncream range range offers 5-star protection against the risk of sun damage. Follow our expert advice on how to stay sun aware and enjoy your summer safely.
Happy summer skin in 3 simple steps
Our Top Suncare Tips

3 golden rules for great summer skin: use sunscreen even on cloudy days, keep skin moisturised after being in the sun (try Lacura Soothing Aftersun Lotion) and drink about 2 litres/8 glasses of water a day to stay hydrated.
If you and your family are going to enjoy the sun this summer, make sure you have the maximum 5-star protection against UVA radiation delivered by all Lacura sunscreen products. Choose from the best suntan lotion, spray sunscreen and sunblock.