Turn roast dinner leftovers into amazing Yorkshire pudding wraps.
Leftover Yorkshire Pudding Wraps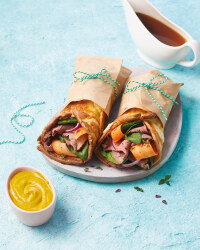 Recipe Information
Ingredients
60g Plain Flour
150ml Semi Skimmed Milk
4 Medium Eggs
Salt
200g left over or ready sliced cooked Beef, Lamb or Chicken
200g left over Vegetables – or sliced Red Onions, Spinach leaves and Carrot ribbons
Sunflower Oil
Extras:
23cm Round Shallow Baking Tin
Method
Preheat the oven to 220c/425F/Gas Mark 7.
Mix the flour, eggs, milk and salt together to make the batter.
Pour a little oil in the tin and heat in the oven.
Pour a quarter of the batter into the tin.
Bake in the oven for about 8 mins until risen and golden – you don't want them too crisp otherwise they wont roll up. Remove and put to one side. Repeat with the rest of the batter to give you 4 wraps.
Divide the meat and vegetables on the Yorkshire pudding wraps and roll over - secure with a toothpick.
Reheat in the oven for 10 mins.
Serve immediately.