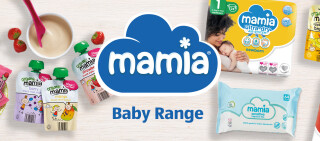 Congratulations and welcome to parenthood.
It's such an exciting time when you start a family. And we're here to give you all the support and help you need, from everyday essentials like nappies and wipes, to baby food and more. Why not have a little look around at our award-winning Mamia range and see if you like it? There's a whole range of amazing Mamia products to choose from. Everything you need to get your family off to the best possible start.
Award winning quality you'll love
Year after year Mamia continues to win awards across the entire baby range from parents and judges alike.

Quality products you can trust
They'll be smiling and giggling all day long thanks to our Ultra-Dry Air System nappies. They're really absorbent as well as being super soft and breathable.

The best organic ingredients
It's always handy to have lots of nutritious snacks to hand. Try our puree pouches, fruit pots and meals – all with no added sugar.

All of the essentials you'll need
If you're looking for nappies, wipes and lots of nutritious foods, you've come to the right place. And check out the prices!
Night-time pants
Let your little ones sleep soundly with Mamia night pants. The soft, breathable materials will keep them comfy and protected for 12 hours. Available for ages 4-7 years. Find them in select stores only.
Ready to go?
Not long now. So, you'll need to be ready to grab that hospital bag and go. We've got a handy list of all those hospital bag must-haves to help you get organised