Comfort food! Easy and delicious Maple Carrots. All you need are carrots, butter, syrup and brown sugar.
Maple Carrots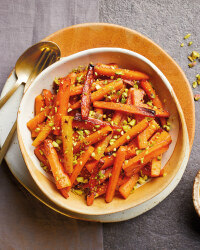 Recipe Information
Ingredients
750g Carrots
50ml Maple Syrup
50g Butter
Sea Salt and Black Pepper
20g Pistachio Nuts, chopped finely
Method
Pre-heat the oven to 200°C/Gas Mark 6.
Peel the carrots, cut into batons and place in a roasting dish.
Melt the butter, combine with the maple syrup and pour over the carrots.
Season with some sea salt and black pepper.
Roast for 40 minutes, turning the carrots a couple of times.
Sprinkle the pistachio nuts over the carrots and serve.