If you want a go-to family recipe that's totally delicious, super healthy and quick to make, then this one pan Italian fish stew is it. Bursting with Italian flavours it will have them coming back for more every time. Serve with crusty bread.
One Pan Italian Fish Stew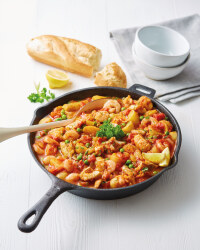 Recipe Information
Ingredients
1 x 300g pack Fish Pie Mix
1 x 150g pack King Prawns
300g Baby or Charlotte Potatoes
1 large Brown Onion
2 cloves Garlic
2 sticks Celery
2 tsp Paprika
1 x 400g tin Chopped Tomatoes
1 Vegetable Stock Cube, dissolved in 400ml boiling water
6g chopped fresh Parsley
100g Frozen Peas
Sea Salt and Black Pepper
Method
Peel, halve and chop the onion.
Wash and slice the celery.
Sauté the onion and celery in the olive oil in a wok for 2 minutes.
Cut the potatoes in half, or quarters if they're big. Add them to the wok and sauté for another 3 minutes.
Peel and mince the garlic and add to the wok.
Add the tinned tomatoes, paprika and vegetable stock, season with some salt and black pepper. Bring to the boil, then cover and simmer for about 15 minutes, until the potatoes are tender.
Add the fish mix and cook for 5 minutes, then add the prawns and the peas and cook another 5 minutes.
Serve topped with the chopped parsley.