Healthy and delicious! It's quick and easy to impress with this One Pot Balsamic Chicken.
One Pot Balsamic Chicken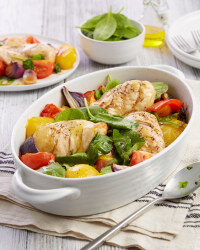 Recipe Information
Ingredients
1 pack Chicken Breasts
2 Red Onions, quartered
1 Red Pepper, deseeded and cut into 8
1 Yellow Pepper, deseeded and cut into 8
4 Salad Tomatoes, quartered
2 tbsp Rapeseed Oil
75ml Balsamic Vinegar
50g Spinach
Method
Pre-heat oven to 200°C/400°F/Gas Mark 6.
Place onions, peppers and tomatoes into the base of a large casserole dish.
Score the chicken breasts and place on top of the vegetables, with a drizzle of balsamic vinegar and oil. Season with salt and pepper.
Bake for 30-35 minutes until chicken is thoroughly cooked, then add spinach leaves. Replace the lid for 5 minutes to rest the chicken and wilt the spinach leaves.
Stir and serve.