Authentic Japanese dumplings stuffed with pork, garlic, Pak Choi, and spring onions.
Pork Gyozas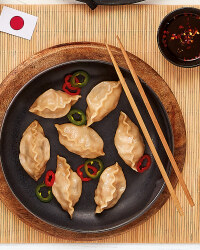 Recipe Information
Ingredients
Dough
300g Strong White Flour
200ml Boiling Water
½ tsp Salt
Filling
400g Pork, minced
2 Garlic Cloves, peeled and minced
12g Fresh Ginger, peeled and finely chopped
1 Spring Onion, finely chopped
1 Pak Choi, finely chopped
Salt and Black Pepper
Vegetable Oil
Sauce
60ml Soy Sauce
Juice of 1 Lime
½ tsp Dried Chilli Seeds
10cm Round Cutter
Method
Make the dough by sieving the flour and salt into a large bowl.
Pour over the boiling water and mix with a whisk into a ball.
Place on a work surface and knead until smooth.
Put into a bowl, cover with cling film and allow to rest for an hour.
Meanwhile, make the filling by mixing the pork, garlic, ginger, pak choi and spring onions in a bowl.
Season with some salt and pepper and mix well. Cut the dough in half and roll out on a floured worksurface, stretching until very thin.
Cut out 15 circles with the cutter, then repeat with the other half of the dough.
Place a teaspoon of the filling in the centre of each circle.
Dampen the edges, fold to create a crescent, then pinch the edges together, like a Cornish pasty.
Heat some oil in a heavy-based frying pan and add 10 gyozas to the pan.
Fry for a couple of minutes on a medium heat, to brown the bases Pour over 100ml boiling water, put a lid on the pan and steam for a further 5 minutes.
In the meantime, mix the soy sauce, lime juice and chilli seeds together.
Gently remove the cooked gyozas from the pan and keep warm while you cook the rest.
Serve alongside the sauce.