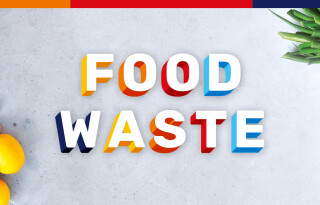 How to reduce food waste and save money
Did you know that 70% of the food wasted in the UK comes from people in their own homes? And that the cost of wasted food is £19 billion a year? That's 2 big facts and 2 easy opportunities to reduce food waste and save on your weekly budget. Follow the handy tips on this page and we'll show you how easy both can be, with leftovers recipes, freezable food ideas and composting help too.
Some things are too good to waste
Love food, hate waste? No problem. There's no need to let any food go to waste in your kitchen. Because it turns out the most common foods are perfect for all kinds of things, from tasty leftover recipes to cleaning products, dog biscuits and even beauty treatments. Try our 6 top food hacks to help reduce your food waste once and for all.
Oranges and lemons are a brilliant cleaning agent. Not only are they an acid antibacterial, they smell great. Stick all those used citrus peels in vinegar for 2 weeks (or more), then mix 50/50 with water. An incredible homemade eco-friendly disinfectant!

Don't throw away those precious bits of cheese. Melt it in a creamy fondue or make a really good toasty. Maybe whip up a creamy macaroni cheese for supper. That's what leftover cheese is for. Cheese rinds also pack a flavour punch to soups and broths.

We're not kidding. Chilled potato peels are a great way to freshen up tired eyes. It's because starch is an anti-inflammatory, which makes it perfect for reducing puffiness and dark circles. Leave on for about 20 minutes.
If your milk is near its end date then don't throw it away. Make something delicious instead. Like this homemade Blueberry Ripple Cheesecake Ice Cream. A tangy treat for every ice cream lover.

Leftover bread can be used for all kinds of tasty creations, from croutons and breadcrumbs to toasties. Our favourite, however, is this savoury Mini Vegetable Tart.

Don't do it! Don't throw away those old bananas. The dogs will love those mashed up with 500ml of water, 30g honey and egg and 500g wholemeal flour. Bake for 25 mins at 170°C and see how their tails wag.
New meal ideas for leftover food
The most fun and delicious way to reduce food waste in your home is to make more amazing dishes with all your extra ingredients. So, grab what you have in your fridge and cupboards and give these amazing recipes a try this week. There's lots to enjoy!
A few more fresh recipes for leftovers
If you need a little more inspiration on what to make with leftover food this summer, try these quick and tasty recipes. Pick your favourite and follow along today.
Top food waste tips from mums we love
We've teamed up with amazing mums Aimee Eyre (@Aimee__eyre) and Mrs Shilts (@mrsshilts) to bring you some simple, delicious family meals you can make to use up your leftover ingredients and reduce food waste in the home. Let's get cooking!
Aimee's easy pasta
Take your extra veg, pasta and any meat you have in your freezer and make this quick dish. Chop the veg and meat, boil the pasta, then mix them both together in the pan. Add some flavour with a pasta sauce you need to use up. Delicious!
Rainbow fried rice
If you find yourself with a few bits of veg left over each week, turn them into this amazing Rainbow Fried Rice dish. Mrs Shilts loves adding favourites like frozen peas and sweetcorn, but you can add whatever your family likes most. Enjoy!
How to freeze your leftover food
What to do with your leftovers is a big question for families. That's where freezing becomes so useful. It might come as a surprise, but many of your extra ingredients can be frozen for later use in recipes. Here's just a few you may not know about…
Bacon is perfect for the freezer. All you need to do is fold each extra rasher in baking paper so you can separate easier when defrosting. Once it's all covered, put it in a zip-seal bag and freeze. Defrost for 30 minutes before cooking.

You might not like the idea of frozen avocado slices, but they make great guacamole, dressing and spreads. Just pop your slices or pureé in sealed plastic bags and put them in your freezer. Defrost in cold water until the avocado thaws completely.

Eggs may be the oddest thing that you can actually freeze and still use later. But if you crack them, beat them and place them in a sealed tub, you can absolutely freeze them and enjoy them weeks later. Defrost them in the fridge for a day before using.
Whether you're prepping your meals for the week ahead or simply storing extra from the family meal, cooked pasta is best frozen separately from your sauce. It will be good for 3-5 days in airtight containers. No need to defrost. Just cook straight away.

You can freeze milk for about a month. Make sure it's in an airtight container with room to expand. Then defrost overnight (about 8 hours) in the fridge before use. For smoothies, simply pop in an ice cube tray and blend straight out of the freezer.

Freezing cheese in large blocks will make it lose moisture and become crumbly, so grate and freeze in handy portion sizes, wrapped in cling film or foil, in a freezer bag. Firmer cheeses like Cheddar, Gouda and Swiss freeze best.
Go wild
Recycling food waste is one of many benefits of having a compost heap. It's also great for insects and wildlife, encouraging heap dwellers like rove beetles or nesting bumblebees and providing the perfect hedgehog habitat. Help them stay hydrated by leaving out tinned dog or cat food and water.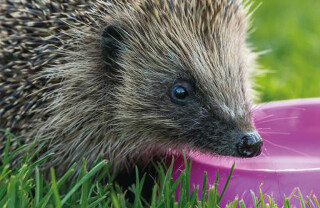 How to start composting at home
Think again about throwing out your food waste with our helpful home composting tips. In 4 simple steps we'll show you how to start your own compost site with last night's leftovers and the waste already lying around your garden.
Pick an area where the conditions are as constant as possible, so a shaded area is ideal. For drainage, place your site on earth where you can, but if you only have ground, add a spade of soil to the bin.

For a good balance of micro-organisms, you should use 50% green waste (grass clippings, fruit and veg waste). The other 50% will come from woody brown materials (wood chippings, cardboard and dead leaves).

Make sure you turn it every month as allowing air into the mix is vital. Without it, the mix could become too wet or compacted, making the whole process slower.

Composting is a slow but rewarding hobby. You could wait between 6 months and 2 years to see a full, mature dark brown compost that's crumbly and smelling of that lovely damp woodland aroma.
Feed the birds
Kitchen leftovers are a brilliant way to provide birds with some extra nutrition and energy all year round. Find out what foods are best below and get the kids to make a bird feeder in our Get Crafty Guide.
What can they eat?
Birds just love small pieces of hard cheese, roast potatoes and unsalted nuts (any will do). You can try small pieces of pasta or rice (washed and free from oil or salt) and stale bread, cakes and cookies (crumbled and soaked in water).
Our partners in reducing food waste
Because reducing food waste is such an important issue for us, we've teamed up with amazing organisations that are doing fantastic work in putting excess food to better use, like Neighbourly. Through them, we donate surplus products to local communities who need them most, and with Love Food Hate Waste, we can show you more details on the importance of wasting less food at home.