12 Red Velvet cupcakes topped with cheesecake icing and fresh strawberries.
Red Velvet Cupcakes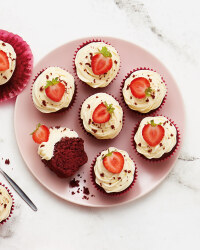 Recipe Information
Ingredients
Cupcakes
200g The Pantry Plain Flour
120g Cowbelle Unsalted Butter, softened
60ml Sunflower Oil
200g The Pantry Caster Sugar
2 x medium Eggs
160ml Cowbelle Milk
1 tbsp Lemon Juice
1½ tsp Bramwell's White Distilled Vinegar
2 tbsp The Pantry Cocoa Powder
1 tsp The Pantry Bicarbonate of Soda
½ tsp Salt
1 tsp The Pantry Vanilla Extract
2 tbsp The Pantry Red Food Colouring
Frosting & Decoration
120g Cowbelle Unsalted Butter, softened
220g The Cheese Emporium Soft Cheese (full fat)
500g The Pantry Icing Sugar
1 tsp The Pantry Vanilla Extract
The Pantry Sprinkles
6 Strawberries, halved
Baking
12-hole cupcake tin
12 cupcake cases
Method
Pre-heat the oven to 190°C/170°C Fan/Gas Mark 5.
In a large bowl, mix together the dry ingredients – flour, cocoa, bicarbonate of soda and salt. Add the lemon juice to the milk and leave for 10 minutes to thicken slightly (this makes buttermilk). Next, mix together the milk, vinegar, vanilla extract and red food colouring.
In a large mixer, beat together the butter and sugar for 5 minutes until smooth, light and fluffy. Then add in the oil and mix until combined, followed by the eggs, one at a time, beating in between until smooth.
Gradually add the dry ingredients along with the buttermilk, mixing in between until smooth. Place a cupcake case into each hole in the tin and spread the cake mixture between the cases. If you have too much cake mix, spread the excess on a tray and bake along with the cupcakes. This cake can be made into crumbs to decorate. Bake for 15 to 20 minutes or until a cocktail stick comes out clean. When cooked, leave to cool on a rack.
Use an electric hand mixer or stand mixer to beat the soft butter and cream cheese together until smooth. Then gradually add the icing sugar, beating in between until light and fluffy.
Either pipe or spoon a dollop of frosting on top of the cooled cupcakes and decorate with the red velvet cake crumbs and strawberries.