Delicious rustic roast lamb, served with a rosemary garnish and tasty anchovies. Brilliant served with fresh seasonal vegetables.
Roast Lamb with Garlic, Rosemary & Anchovy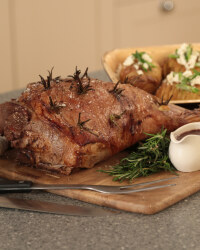 Recipe Information
Ingredients
1.8-2kg leg of Red Tractor lamb, on the bone, trimmed
100g x anchovies in olive oil, drained, each one cut into three
1 x bunch of rosemary, the soft variety rather than spiky
300ml red wine
4-5 large cloves garlic, peeled and sliced
75g softened butter
A little salt and plenty of pepper
Method
Pre-heat the oven to 220°C/430°F/gas mark 7.
Using a small, sharp knife, make about twenty incisions across the top of the lamb, especially deep down into the most fleshy, top part of the leg.
Using your little finger, widen the incision to allow you to insert a slice of garlic, a piece of anchovy and a small sprig of rosemary.
Place the joint in a roasting tin and pour the wine around it.
Smooth the butter all over the top of the lamb.
Salt very lightly and grind over plenty of black pepper on both sides.
Squeeze over a little lemon juice and drop the remaining sprigs of rosemary into the bottom of the tin.
Put into the oven and roast for 20 minutes.
Now turn the oven temperature down to 180°C/gas mark 4.
Roast the lamb for a further hour or so, depending upon how you like your lamb cooked. (An extra 45 minutes for rare; 1 hour for medium rare and 1 hour 15 minutes for well done.)
Baste from time to time with the juices.
Once ready, remove the joint from the oven (switch it off and leave the door ajar), transfer to a carving dish, cover with foil and - after about 5 minutes - return it to the waning heat of the oven to rest, still with the door ajar.
Taste the juices in the roasting dish and see if any further salt is needed [there shouldn't be].
During the roasting process the wine will have reduced somewhat and mingled nicely with the meat juices and the butter [there will be more juices surrounding the meat in the oven, once fully rested].
To serve, remove the lamb from the oven and add the juices from the carving dish to the oven tray and use as gravy.
Serve with green vegetables and potatoes of your choice.