A golden array of deliciously sweet and savoury star-shaped swede, carrots and parsnips.
Roasted Root Vegetable Trio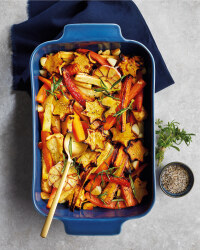 Recipe Information
Ingredients
500g Parsnips
500g Carrots
½ Large Swede
2 tbsp Rapeseed Oil
1 tbsp Honey
½ tsp Salt
½ tsp Pepper
1 Garlic Bulb, cut in half
4 Sprigs Rosemary
Method
Pre-heat the oven to 200°C/180°C Fan/Gas Mark 6.
Peel and trim the carrots and parsnips and cut into quarters lengthways, if they are too big cut in half and then into quarters lengthways.
Next, peel the swede and then slice into discs 1cm deep.
Use a star cutter to cut the swede into star shapes.
Place the vegetables, garlic and rosemary on a large baking tray and drizzle over the oil, honey, salt and pepper and toss the vegetables to coat well.
Roast for 40-45 minutes until the vegetables are cooked.