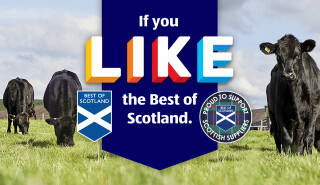 Delivering fresh, quality Scottish meat
We're committed to working with the best Scottish suppliers. Suppliers who maintain the highest quality and strictest animal welfare practices when producing the meats you love. Their knowledge and passion means they continue to champion sustainable practices and allow us to offer you the best quality Scottish meat for your weekly shop.
Amazing Scotch Beef
Meet the Barbour family. They have been producing high quality 100% Scotch Beef for five generations from their stunning green grassland in South West Scotland. Learn more about them and how they use sustainable practices to ensure a steady supply of high-quality cattle for our Scottish stores.
Look for Scotch Lamb
It's the favourable climate, stress-free life roaming the heather-clad hills and exceptional farming methods that give real Scotch Lamb such an exquisite and consistently sweet taste. Ours is handpicked from select farms across Scotland. That's why we can be sure every customer enjoys the finest quality product, and why you should try it. Here you can learn more about it and how to find it in your local Aldi store.
Scotch Lamb PGI
When you see a PGI badge with the Scotch Lamb logo you can be confident the meat comes from an animal that was born and reared its whole life in Scotland. 100% of the lamb in our everyday range is Scotch.
Top quality pork
All our fresh Scottish pork is sourced from Scottish farms with the highest welfare standards. From mouthwatering centrepieces to everyday essentials, we stock Aldi Scotland stores with delicious, tender products week in week out.
Specially Selected Pork
All the pork in our everyday range is Specially Selected. This means it is sourced from farms approved by the Scottish SPCA. Specially Selected Pork comes from specific animals on selected farms that adopt best practice standards for animal welfare.
100% Scottish Chicken
From drumsticks to whole birds, look for the label. We work with our amazing Scottish suppliers to source the best-tasting poultry from local farms, and we're committed to supporting them – just like you are.