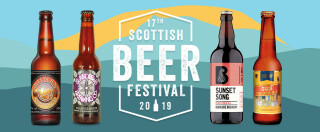 It's our 17th Beer Festival with 34 amazing beers worth celebrating!
Our experts have looked high and low for the best beers Scotland's brewers have to offer. They've brought together 34 amazing locally brewed beers, from crisp IPAs and refreshing lagers to bracing blondes and enticing, dark ales. Download our handy Scottish Beer Festival guide below or pick up a copy in store so you can choose your favourite.
The pride of Scottish brewing
34 great reasons why Scotland's proud brewing heritage is as strong as ever. From Orkney to Castle Douglas, we've brought together these amazing Scottish beers for you to enjoy at home.
Win 2x full camping tickets for Fynefest!
We have teamed up with Fyne Ales for 2x full camping tickets and admission weekend tickets for Fynefest on 31 May to 3 June.