Roasted cauliflower wedges coated in a thick cheesy sauce
Skinny Cauliflower Cheese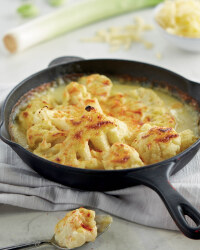 Recipe Information
Ingredients
1 x Large Cauliflower
150g Low Fat Natural Cottage Cheese
100g Mature Lighter Grated cheddar cheese
70g Leeks
1 x Vegetable Stock Cube
300ml Skimmed Milk
20g Cornflour
½ tsp Paprika
Sea Salt and White Pepper
Method
Preheat the oven to 200c/400f/gas 6.
Cut the cauliflower into 6 wedges.
Add the cauliflower to boiling, salted water and boil for 5 mins. Once cooked, drain well.
Chop the leek finely and put into a small saucepan along with the milk. Crumble the stock cube over leek and milk and bring to the boil. Once boiling, turn down the heat and simmer for 5 mins.
Put the cottage cheese, cheddar cheese and corn flour into a food processor. Pour over the hot leek and milk mixture and blitz. Add the cheese sauce to the pan, season with some pepper and salt and heat through until thickened.
Put the cauliflower wedges into an oven proof dish, pour over the cheese sauce and bake in the oven for 25 minutes.
Sprinkle with the paprika and serve.