A simple slow cooked chilli pulled pork recipe that's easy to make and delicious for all the family.
Slow Cooked Chilli Pulled Pork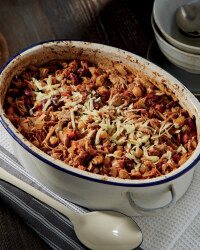 Recipe Information
Ingredients
Approx. 1.5kg Ashfield Pork Shoulder Joint
1 x 3 pack of Peppers
1 Large Mild Onion
800g Sweet Harvest Chopped Tomatoes with Herbs
50g The Pantry Light Brown
Soft Sugar
1 Quixo Chicken Stock Cube
2 tsp Stonemill Garlic Granules
2 tsp Stonemill Chilli Flakes
1 tsp Stonemill Chilli Powder
1 tsp Stonemill Ground Cumin
1 tsp Stonemill Paprika
2 tsp Stonemill Basil
400ml boiling water 400g
Sweet Harvest Red Kidney Beans
400g Sweet Harvest Chick Peas
Sea Salt and Black Pepper
Find your ingredients online on Click & Collect or find your nearest store using our Store Finder.
Method
Cut the pork into 6 slices and remove the skin.
Peel, cut in half and finely chop the onion.
Halve the peppers, remove any white pith, seeds and green stalk and chop finely.
Put the stock cube in a bowl, add the chilli flakes and powder, garlic granules, paprika, cumin, brown sugar and basil, add some black pepper and a little salt, then pour over the boiling water and stir until dissolved.
Put the chopped peppers and onions into a slow cooker, top with the spiced boiling water and the 2 tins of chopped tomato.
Lay the pork strips on the top then gently push into the tomato and cover with the lid.
Cook on high for 6-7 hours or on low for 9-10 hours (consult your cooker manual as all models vary).
Alternatively, cook in the oven in a covered casserole dish at 170oC/325oF/Gas Mark 3 for 5 hours.
Heat through the red kidney beans and chickpeas with the liquid from the cans, then drain.
Break/pull the pork with 2 forks into bite-sized pieces, add the beans then mix well and serve.