Bake a festive match made in heaven. This Sprout & Prosciutto dish is smoky, crispy and delicious.
Sprout & Prosciutto Bake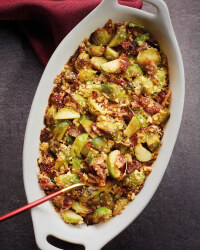 Recipe Information
Ingredients
500g Sprouts
90g Prosciutto Ham, thinly sliced
150g Soft Cheese
2 Garlic Cloves
50ml Milk
40g Plain Flour
20g Butter
2 flat tsp Dried Mixed Herbs
5g Parmigiano Reggiano Cheese, grated
Sea Salt and Black Pepper
Method
Pre-heat the oven to 200°G/Gas Mark 6.
Peel and cut the sprouts into quarters.
Boil in salted water for 5 minutes and drain well.
Place the sprouts and ham into an ovenproof dish.
Peel and mince the garlic into a bowl and mix together with the soft cheese, some black pepper and milk.
Spread this over the sprouts and mix in
Combine the flour, butter, parmigiano and herbs in a bowl and rub together with your fingers.
Sprinkle over the top of the sprouts.
Bake in the oven for 40 minutes.