Tasty and succulent strawberries with an indulgent topping.
Strawberries Dunked in Dark Chocolate with Amaretto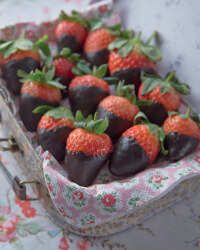 Recipe Information
Ingredients
400g Fresh Strawberries
100g Belgian Dark Chocolate
45ml Amaretto
20g Unsalted Butter
Find your ingredients online on Click & Collect or find your nearest store using our Store Finder.
Method
Break up the chocolate and put into a heat-resistant bowl, along with the Amaretto and the butter.
Place the bowl over a pan of boiling water, stirring gently until melted, making sure the bottom of the bowl doesn't touch the water.
Wash and dry the strawberries, then dip them into the bowl while the mixture is still warm. Transfer to a plate and pop them in the fridge to harden.