This non-alcoholic variation of a fruity classic is perfect for all party guests!
Strawberry Daiquiri Mocktail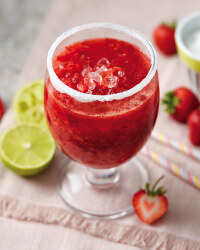 Recipe Information
Ingredients
150g strawberries
2 tsp Caster Sugar
50ml Lemonade
1 Lime, juice only
4 Ice Cubes
Method
Cut the tops off the strawberries and then place them in a blender with the caster sugar, lemonade and the lime juice.
Place the 4 ice cubes in a sturdy sandwich bag and crush them using a rolling pin. Add to the blender.
Finally blend the mixture for about 30 seconds until the strawberries have broken down and there are no chunks of ice left.
Serve in 2 martini glasses or a long glass with a strawberry on the side to garnish.