A quick and easy recipe that everyone will love – Stuffed Peppers with Lean Turkey Mince.
Stuffed Peppers with Lean Turkey Mince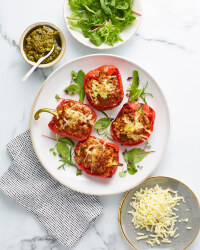 Recipe Information
Ingredients
2 Red Peppers (halved & seeds removed)
250g Turkey Mince 1 tbsp Olive Oil
75g Chestnut Mushrooms (roughly chopped)
1 Courgette (roughly chopped)
½ Red Onion (diced)
1 Garlic Clove (chopped)
400g Can Sweet Harvest Chopped Tomatoes
1 tbsp Sweet Harvest Tomato Purée
1 tsp Salt
1 tsp Pepper
1 tsp Stonemill Dried Oregano
60g Grated Mozzarella
Method
1. Heat the oven to 190C/170F Fan/gas Mark 5.
2. Halve and deseed the red peppers and bake for 10-15 minutes until beginning to soften.
3. Heat the oil in a frying pan and cook the turkey mince, along with the onion and garlic, for 5 minutes until beginning to brown.
4. Add the mushrooms and courgette and cook for another 5-10 minutes.
5. Next stir in the chopped tomatoes and tomato purée then season with the salt, pepper and oregano.
6. When the peppers come out of the oven, stuff with the turkey mince and sprinkle the mozzarella over the top.
7. Bake for another 15 minutes until the cheese has melted and turned golden.
8. Serve hot with a side salad.