Enjoy this no-cook berry pudding bursting with summer flavours, perfect for entertaining family and friends.
Summer Berry Cheesecake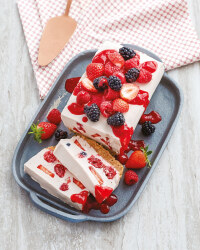 Recipe Information
Ingredients
130g Digestive Biscuits
60g Scottish Butter
135g pack Delicious Desserts Strawberry Jelly
200g pack Full Fat Soft Cheese
150ml Scottish Double Cream
100g Fresh Strawberries
200g Scottish Raspberries
100g Fresh Blackberries
Juice ½ Lemon
2lb loaf tin
Method
Line the base and sides of the loaf tin with some tin foil.
Break up the biscuits and put into a food processor and turn into fine crumbs.
Melt the butter and mix in with the crumbs.
Use this to line the base of the tin.
Put in the refrigerator to set.
Dissolve the jelly in 125ml boiling water.
Once dissolved add the soft cheese and whisk well to combine, then allow to cool.
Whisk the cream until thick and fold this into the cheese mix.
Pour into the prepared tin.
Put back into the fridge and leave until just setting – about 20 minutes.
Slice 30g of the strawberries and scatter them along with 30g raspberries and blueberries over the cheesecake.
With a small spoon, poke the fruit down into the mix, then put back in the fridge to completely set.
Mash 100g raspberries with the lemon juice, then sieve to remove the seeds.
Once the cheesecake is firm, turn out on a plate.
Decorate with the remaining berries and drizzle over the raspberry sauce.