Wow your family with these tasty Sweetcorn riblets.
Sweetcorn Riblets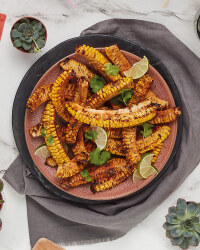 Recipe Information
Ingredients
2 x Corn on the Cob
1 x tsp Smoked Paprika
1 x tsp Garlic Granules
1 x tsp Dried Oregano
1 x tsp Ground Cumin
1 x tsp Coriander
60ml Olive Oil
5g Sugar
Sea Salt and Black Pepper
Method
Pre-heat the oven to 200°C/Gas Mark 6.
In a large bowl, mix together all the spices and herbs with the olive oil and sugar, then season with salt and pepper.
Cut the sweetcorn in half lengthways, then put the corn on its side and cut down the length of the cob. Put the raw cobs in a microwave for 30 seconds, then cut into 3, lengthways from top to bottom.
Put the 12 ribs in the bowl and rub with the oil. Put them on a baking sheet in a single layer and roast for 20 minutes until crispy.