Aldi's Bellucci Amaretto provides an appetising sweet undertone of exotic marzipan to The Bellucci Job, giving balance to the sweetness of the strawberries and the tartness from the cranberry juice. The mix of sweet and sour flavours allows this drink to cater to all palates.
The Bellucci Job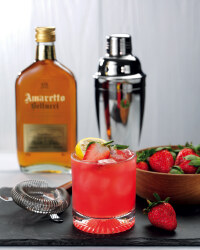 Recipe Information
Ingredients
25ml Tamova Vodka
25ml Bellucci Amaretto
3 strawberries
1 teaspoon of white sugar
75ml cranberry juice
2 lemon wedges
Soda water to top
Method
Cut the strawberries into quarters, add to the cocktail shaker and sprinkle with white sugar.
Using the back of a wooden spoon muddle or press down on the strawberries.
Add the remaining ingredients (except the soda water) and shake hard over ice.
Using a tea strainer, fine-strain the liquid into a tall ice-filled glass.
Top with soda water.