Vegan Christmas cake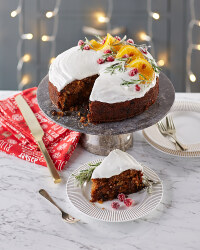 Recipe Information
Ingredients
Vegan christmas cake
150g (1 pack) Bountiful berry mix
100g Natural Selection raisins
50g The Pantry soft prunes, roughly chopped
100g The Pantry apricots, roughly chopped
50ml Napoleon brandy
50ml Apple juice
225g Plain flour
170g Vegetable oil
170g Light brown sugar
1/2tsp Ground cinnamon
1/4tsp Ground ginger
50g Roughly chopped almonds
Zest of 2 oranges
2tbsp. Ground almonds
120ml Soy drink
2tbsp Cider vinegar
3/4tsp Bicarbonate of soda
2 servings Brandy, optional.
Extra Brandy or Port, optional.
Vegan Royal Icing
500g The Pantry icing sugar
6 tbsp Aquafaba (the brine from a can of chickpeas)
1-2 tbsp The Pantry corn flour
Please note that if you are making a lower alcohol version of this and don't plan on feeding the cake with brandy it will not be preserved by the alcohol, therefore make just a few days before serving.
Method
Cake
Soak the berries, raisins, prunes and apricots in the brandy and apple juice for 24 hours.
Preheat the oven to 140°c.
Grease and line a baking tin.
Mix together the flour, oil, sugar, spices, zest, almonds and soaked fruits until mixed well.
Warm half the soy drink with the vinegar and add the bicarb to the rest of the soy milk.
Mix the two together and immediately mix in with the rest of the batter.
Place in the baking tin and cook for 2 hours.
When removed, check it's cooked by sticking a skewer or sharp knife into the cake. If it comes out clean it's cooked.
If you want to add alcohol, just poke a few holes in the cake and feed with brandy and/or port to your taste.
Icing
Use an electric mixer to beat the aquafaba until foamy.
This should take a few minutes and double in size.
Add the icing sugar in one and mix until smooth and thick.
The icing needs to be quite thick, add the corn flour to get your desired consistency.