No yeast pizza dough recipe, ready for all your favourite toppings.
Yeastless Pizza Dough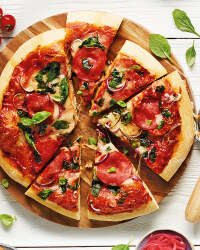 Recipe Information
Ingredients
365g Plain Flour
180ml Water, room temperature
1 tbsp Olive Oil
3 tsp Baking Powder
¾ tsp Salt
Recommended Toppings
Tomato Puree
Herbs
Grated Mozzarella
Red Onion
Spinach
Pepperoni
Method
Pre-heat the oven to 200°C/Gas Mark 4.
In a mixing bowl add flour, baking powder and salt. Mix thoroughly and set aside.
Pour the water into a measuring jug and add the oil.
Slowly add the water and oil to the dry ingredients, stirring with a wooden spoon.
Once it begins to combine you can use your hands to form a soft dough. If your dough feels a little dry add a splash more water and if a little sticky add a spoonful of flour.
Lightly dust your work area with flour. Roll the dough into a circle using a rolling pin and your hands.
Transfer the pizza base to a baking tray and prick with a fork.
Decorate the pizza, adding toppings of your choice.