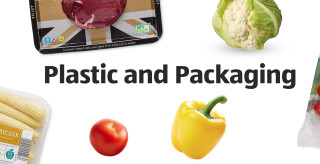 How we're tackling packaging and plastic waste
Plastic packaging plays an important role in protecting some products from damage, making sure they can be transported easily and helps reduce waste by preserving food for longer. However, we are aware of the negative impact that plastic has on the environment and know this is an issue that matters to our customers.
As a result, we only want to use plastic when we need to and are taking positive steps to reduce the amount of plastic we use. Look out for our logos in store:
In March 2018, we introduced our 10-point pledge to reduce the amount of packaging we use, while maximising the volume of plastics recycled and reused when there is no other alternative.
The Aldi 10 Plastic and Packaging Pledges
By 2022 Aldi aims for 100% of all own label packaging to be recyclable, reusable or compostable (where it does not have a detrimental effect on product quality or safety, or increase food waste)
By 2025 Aldi aims to achieve 100% recyclable, reusable or compostable packaging across all products (where it does not have a detrimental effect on product quality or safety, or increase food waste)
By 2025 Aldi aims to reduce packaging by 50% (relative to 2015 baseline)
By 2025 Aldi aims for 50% of its packaging to be made from recycled material
Aldi will publicly report on its packaging progress annually starting in 2019
Aldi is educating customers on the importance of waste reduction (reduce, reuse, recycle) through its community programmes
Aldi removed all single-use plastic bags from our stores at the end of 2018
Aldi is working in partnership with other retailers to reduce its dependence on plastic
Aldi has established a Packaging Task Force with its Buying Teams and external experts to deliver these goals
In principle Aldi supports a Deposit Return Scheme for plastic bottles and is conducting a feasibility study into how it could implement such a scheme
New Packaging and Plastic Pledges
We aim to remove difficult to recycle packaging including expanded polystyrene, PVC and non-detectable black plastic from our core range of food products by the end of 2020.
We will initially remove non-detectable black plastic across our range of fruit and vegetables by the end of 2019 before extending it to our fresh meat, fish and chilled ready meals.
We aim to reduce plastic packaging by 25% by the end of 2023.
We will remove non-biodegradable glitter from Christmas wrapping paper and greeting cards by Christmas 2019 and from all products by the end of 2020.
88% of own brand core range packaging is currently recyclable

We have replaced almost 3,000 tonnes of unrecyclable plastic with recyclable alternatives

We have removed more than 2,200 tonnes of plastic from our own-brand products
We have removed or reduced plastic packaging on a range of fruit and veg, this has already saved more than 163 tonnes of plastic

We have replaced 265 tonnes of hard-to-recycle black plastic from other fresh fruit and veg lines

We have cut more than 1,050 tonnes of plastic by introducing recyclable packaging across our farm range of sliced cooked meat products
We have switched pizza disks from polystyrene to cardboard, which removed 180 tonnes of plastic

We have changed our packaging on Mamia nappies to save more than 131 tonnes of plastic

We have removed glitter from our own-label Halloween and Christmas ranges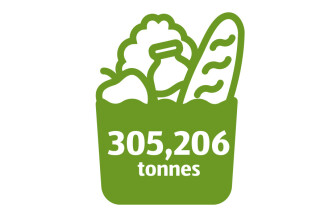 Our total packaging tonnage. We have introduced a number of initiatives to reduce overall packaging, including removing single-use carrier bags from store and removing the amount of plastic packaging used for fresh produce such as salad tomatoes and tenderstem broccoli.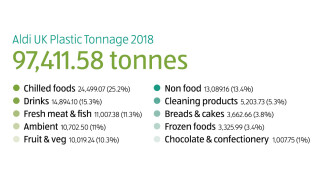 We are continually working to reduce the amount of plastic that we use and ensure that the materials we do use are easy to recycle. We know that we still have a long way to go, but we're working hard to reduce our environmental impact and ensure that our products are packaged sustainably.