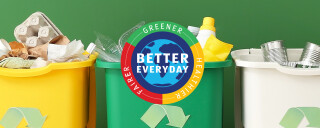 How we're tackling packaging and plastic waste
Plastic packaging plays an important role in protecting products from damage, making sure that they can be transported easily, and helps reduce waste by preserving food for longer. However, we are aware of the negative impact that plastic has on the environment, and know this is an issue which matters to our customers.
As a result, our Buying and Plastic & Packaging teams have been reviewing our entire product range and have taken positive steps to reduce the amount of plastic and packaging we use.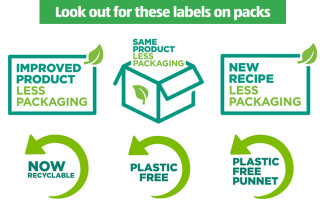 The Aldi plastic and packaging pledges
We at Aldi are fully committed to reducing and removing unnecessary plastic and packaging from our products, which is why we first introduced our pledges back in March 2018. However, lots has changed since then, so we have made some improvements to our pledges to make them even more ambitious!
From July 2020, this is what our new pledges will look like and what we are doing to achieve them:
By the end of 2019, we had removed all black plastic from our fruit and vegetable and frozen food packaging, and all expanded polystyrene (EPS) has been removed from our Core Range Food! We are on track to achieve this goal by the end of the year.

An (everyday) amazing 92% of our own label packaging is now recyclable!

We have removed plastic over lids from Fresh Cream, Big Pot Yogurts and Ready to Drink Coffee - saving an incredible 34 million pieces of plastic! 34 of our fresh fruit and vegetable lines are now 'loose', meaning that they have no packaging at all!
We're changing the way we transport our fresh meat products to store, using reusable crates instead of cardboard boxes and plastic wrap.

Currently 11% of our plastic packaging is made from recycled content, and we are working hard to increase this even further.

We are working hard to achieve this goal by the end of the year.
Our progress so far…
We have been reviewing our range line by line, working internally and with suppliers to make improvements to our packaging. Some changes are more difficult than others, and can take time to test and ensure that we don't compromise on the excellent quality of our products which our customers have come to expect.
We are proud of the progress we have made so far, which includes:
Replacing over 3200 tonnes of unrecyclable plastic with recyclable alternatives - equivalent to 246 double decker buses!

Removing more than 7400 tonnes of plastic from our own label products (or 37 blue whales!).
What changes have we made to our packaging?
At Aldi, we are continually working to reduce the amount of plastic and packaging we use, and to ensure that the materials we do use are easy for our customers to recycle.
By working with our suppliers, we have already made many changes to improve our packaging and reduce our plastic usage. Some of these changes include:
Our fresh meat range has moved from cardboard shelf-ready packaging (SRPs) to reusable crates, saving a fantastic 5800 tonnes of packaging per year.

Our fresh steak range will move to cardboard trays - an 88% plastic reduction per pack, equivalent to a massive 1132 tonnes per year.

We are removing plastic lids from our Baby Wipes, saving 535 tonnes of plastic per year.

We have removed over lids from our Fresh Cream, Big Pot Yogurts and Ready To Drink Coffee - a 208 tonne plastic reduction!
We have switched our pizza bases from polystyrene to cardboard, removing 180 tonnes of plastic annually.

Removal of labels across multiple fruit and vegetable lines has saved 178 tonnes of packaging per year.

Changes across our Specialbuys packaging has saved 35 tonnes of plastic and replaced 22 tonnes of unrecyclable plastic with a recyclable alternative (or 5366 of our Specialbuy Petrol Lawn Mowers!).

We have removed glitter from all of our own-label Halloween and Christmas ranges.
Our packaging footprint
The below graphic outlines our complete plastic packaging footprint for the full calendar year 2019. This includes all own-label and branded primary, secondary and tertiary plastic packaging used across all of our products sold in stores and online during this period. We commit to publishing this data on our website annually.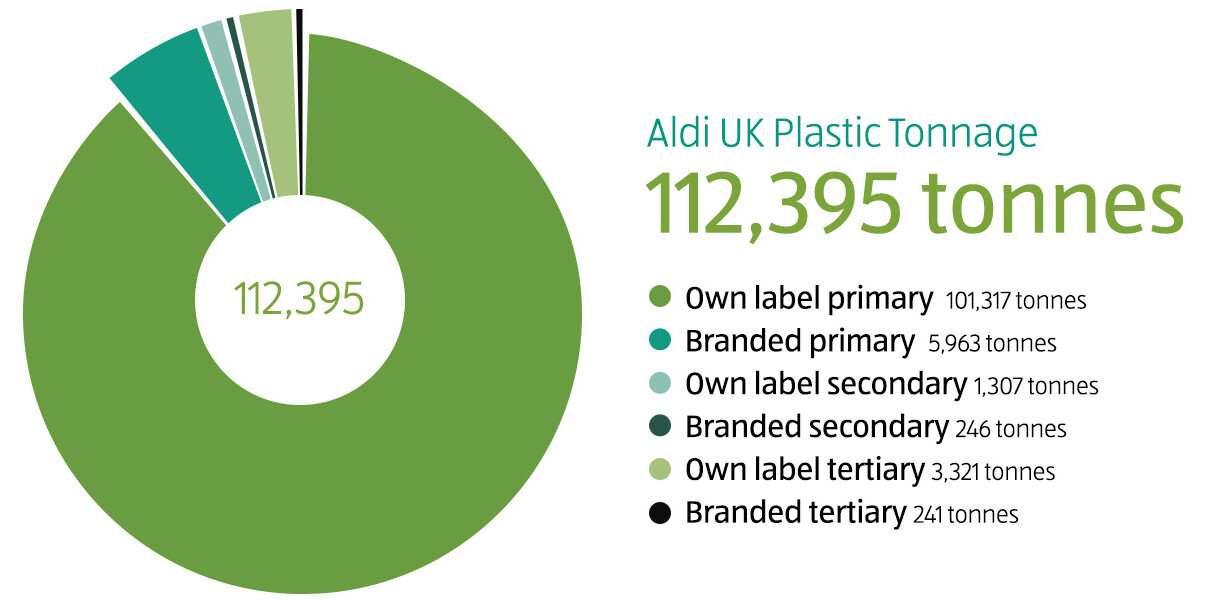 As a predominantly own label retailer, 90% of our plastic packaging footprint comes from our own label primary plastic packaging. We have therefore broken this down to show the split by category:

We are continually working to reduce the amount of plastic that we use and ensure that the materials we do use are easy to recycle. We know that we still have a long way to go, but we're working hard to reduce our environmental impact and ensure that our products are packaged sustainably.