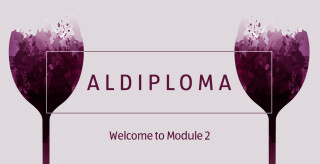 Welcome to the Aldiploma Module 2 – The Principles of Wine Tasting
Time to go to the next level of expertise. Designed with our resident wine expert Sam Caporn, Module 2 will teach you how to pair wine with food, as well as serve and store. By the end you'll feel like a pro, so try hosting a tasting session yourself!
Simply click, sip and enjoy with Wine Discovery Case 1.
Take the Aldi wine tour – A journey through Aldi's most amazing wines
Think of this as a case-by-case education in wine. To enjoy the full Aldiploma experience we recommend you sip and savour a whole range of wonderful wines while you make your way through each module. Order your case today.
Join Aldi's wonderful world of wine
Here at Aldi we love great wine. You can meet our Mistress of Wine, Sam Caporn, discover our collection of classic wine icons and become the wine buff you always wanted to be with our Aldiploma.