Tender beef in a rich stock - this dinner idea is a bona fide family classic.
Beef Casserole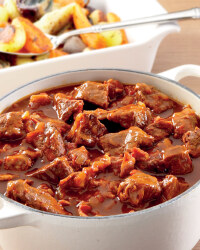 Recipe Information
Ingredients
1x onion - peeled and chopped
6x Unsmoked Streaky Bacon Rashers - chopped
1x 400g pack Lean Diced Beef
1 tbsp Olive Oil
1x 400g tin Chunky Chopped Tomatoes
1x Beef Stock Cube
1x 500ml bottle Specially Selected Golden Ale or 500ml water with a Beef Stock Cube
½ tsp Dried Thyme
2 tsp Meat Gravy Granules
Method
Either pre-heat the oven to 190°C/375°F/Gas Mark 5 or cook on the hob.
In a large saucepan sauté the onion, bacon and the beef in a tablespoon of oil until browned.
Add the tinned tomatoes and mash up the tomatoes with a fork, then crumble in the stock cube and pour in the ale or water.
Season with the thyme, salt and pepper.
Cover and cook on a gentle heat on the hob for about 90 minutes until the meat is tender, or transfer to a covered casserole dish and cook in the oven for 90 minutes.
Once cooked add gravy granules to thicken the sauce.
Serve with 1x 1kg pack Frozen Four Seasons Vegetable Medley, cooked as per pack instructions.
Aldi Wine Matches
Enjoy with a glass of Survivor Generation Shiraz Mourvedre