Deliciously thick homemade beetroot burgers seasoned with cumin, paprika and coriander.
Beetroot Burgers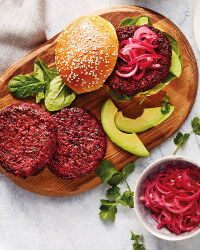 Recipe Information
Ingredients
For the burgers:
350g Cooked Beetroot
400g tin Red Kidney Beans, drained and rinsed
75g Porridge Oats
½ Courgette, grated
1 Garlic Clove, finely chopped
3 tbsp Fresh Coriander, chopped
1 Egg
1 tsp Ground Cumin
1 tsp Paprika
½ tsp Dried Chilli Flakes (optional)
½ tsp Salt
½ tsp Pepper
2 tbsp Olive Oil
To serve:
1 Red Onion, thinly sliced
150ml White Wine Vinegar
1 tsp Sugar
1 tsp Salt
6 Brioche Burger Buns, toasted
2 Avocados,sliced
75g Spinach
150g Hummus
To garnish:
Ground Cinnamon
Method
Add the sugar, salt and vinegar into a pan and heat until the salt and sugar have dissolved.
Pour the mixture over the onion, cover and leave on the side for at least an hour to pickle.
Place the beetroot into a food processor and pulse into small chunks.
Add the kidney beans and continue to gently pulse, being careful not to purée the mixture.
Place in a large bowl.
Add the oats, courgette, garlic, coriander, egg, cumin, paprika, chilli flakes (if using), salt and pepper to the bowl and mix until well combined.
Remove the mixture from the bowl and split into 6 burgers.
Heat the oil in a non-stick frying pan and cook the burgers on a medium heat for 5-10 minutes on each side until cooked through.
When the burgers are almost ready, toast the buns.
To build the burgers spread a spoonful of hummus onto the base of each bun and top with two slices of avocado and fresh spinach.
Add the beetroot burger and top with pickled onions and the bun lids.