Best of the summer wines!
Sunshine and wine go together so well! That's why we make sure our summer collection is full of amazing flavours to match your mood all season long. From elegant rosés and chilled whites to smooth reds and fun fizz, you'll find a bottle for you budget at Aldi. Cheers!
USA White Pinot Noir

A rare and refreshing white wine which is made from red grapes. Gold in colour, with aromas of honeysuckle and vanilla shortbread. It's rich and round, with inviting flavours of dried apricots, peaches and pineapple, with a dry, mineral finish.
Get into the spirit of summer
Wine is fine but maybe you like something else to sip on in the summer. You'll no doubt find the perfect tipple in our collection of spirits. Our fruity gins and mixes are practically made for the season. Find your favourites and enjoy!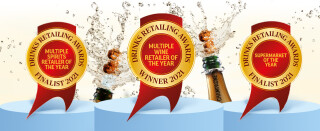 Three cheers to us!
Our wines and spirits have won so many awards over the years for quality and value. And now we can add Multiple Wine Retailer of the Year to our collection, along with two shortlists for Multiple Spirits Retailer of the Year and Supermarket of the Year. Pop in store and see why everyone likes us so much.
A cocktail or two for summer
Take your favourite tipple and turn it into a stunning cocktail with our simple recipes. Start with these drink ideas below.