This dish is an easy mid-week meal pleaser for the whole family.
Chicken Pasta Tray Bake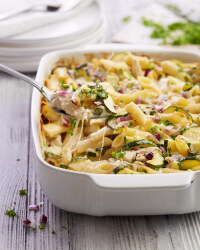 Recipe Information
Ingredients
1kg Chicken Thighs
1 Red Onion
1 Courgette
1 Lemon
250g Penne Pasta
2 cloves of Garlic
50ml Olive Oil
2 tsp Paprika
75g Mature Cheddar Cheese
300ml Double Cream
Salt and Pepper
5g Fresh Chopped Parsley (Optional)
Method
Pre-heat the oven to 200oC/Gas Mark 6.
Skin and bone the chicken thighs, then slice into thin strips. Cook the penne pasta in some slightly salted boiling water, per instructions on the pack.
Peel and finely chop the onion, then peel and mince the garlic, and juice the lemon.
Heat 50ml of olive oil in a large frying pan or wok and sauté the chicken strips, garlic and red onion for 10 minutes.
Cut the courgette in half lengthways and thinly slice. In a bowl, add the pasta, chicken, onions and garlic, cream, cheddar cheese, courgettes and lemon juice. Season with salt, black pepper and paprika and mix well.
Transfer the chicken and bowl mixture to a baking dish and cook for 20-25 minutes.
Sprinkle with chopped parsley and serve.