This dish is an easy mid-week meal pleaser for the whole family.
Chicken Pasta Tray Bake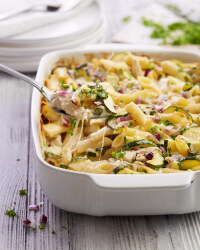 Recipe Information
Ingredients
1 tbsp Olive Oil
250g Penne Pasta
4 Chicken Breasts, cut into thin strips
1 Red Onion, finely chopped
2 Garlic Cloves, finely chopped
2 Courgettes, thinly sliced
300ml Double Cream
1 tbsp Fresh Parsley, chopped (plus a little extra to garnish)
75g Mature Grated Cheddar
Salt
Pepper
30 x 25cm Baking Dish
Method
Pre-heat oven to 200°C/400°F/Gas Mark 6
Cook the pasta in lightly salted water according to pack instructions.
Drain the pasta and set aside.
In the meantime, heat the oil in a large wok or frying pan, add the chicken, onions and garlic and fry until just turning golden brown.
Add the courgettes and cook for a further 5 minutes.
Stir in the cream, bring to a simmer then remove from the heat.
Fold in the pasta and chopped parsley.
Add a little salt and pepper to taste.
Pour the pasta mix into the baking dish and scatter over the grated cheddar.
Bake in the oven for 20-25 minutes until the cheese is melted and golden.
Sprinkle over a little chopped fresh parsley and serve.