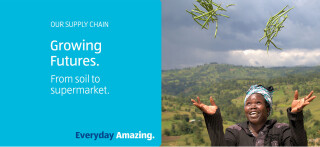 Farm Africa – Growing Futures
Farm Africa improves people's lives in eastern Africa by driving agricultural and environmental change. The charity helps farmers to not only boost yields, but also gain access to markets, while sustainably managing and preserving local ecosystems.
Aldi has been working with Farm Africa since 2016, donating £260,000 to fund the Growing Futures project, which helps young farmers in western Kenya escape poverty by growing and selling vegetables that are in high demand.
The project trains young people in how to grow high-quality crops, like green beans, tomatoes and kale, as well as how to run their farms as businesses. The result is higher yields and higher profits.
"The farmers' incomes have risen because they have larger quantities of produce to sell, the quality is higher so it can command higher prices, and we have helped farmers to form groups and collectively sell their vegetable in bulk to wholesalers." - Mary Nyale, Project Coordinator of Farm Africa's Growing Futures project.
Joseph Kiplagat, a young farmer taking part in the project, describes the impact the project has had on his family: "I have benefited a lot from the project. After the training, I had to enlarge my projections of tomatoes and French beans. After doing this project, we have money, we can meet all the requirements in the family: like taking the children to school. The family is raised up: we can meet the balanced diet."
A supply chain as green as the beans it's delivering
It's not just farmers taking part in the project who are benefiting. Thriving businesses like Joseph's create jobs for other local people, so the project has wider impact across the whole community. Joseph says: "When we started the projects, like the French beans we are harvesting now, we created employment within our people. During planting, education and spraying, when we have access to money, we hire labour. Different people within our community are benefiting: ladies, men and youths not involved in the projects."
The French beans from the Farm Africa project were sold in a number of our stores in Autumn 2018 for two weeks giving the farmer direct access to market. This marks the first delivery of produce harvested as part of Aldi's three-year partnership with Farm Africa.