Cajun shrimp and scallop skewers with a side of grilled garlic tomato bread.
Grilled Cajun Shrimp and Scallops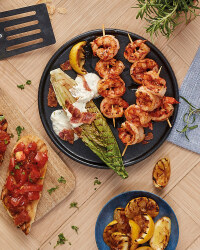 Recipe Information
Ingredients
275g (1 Bag) Raw Easy Peel Argentinian Red Shrimp, Defrosted and Peeled, tails on
200g (1 Bag) Raw Peruvian Scallops, defrosted
Marinade:
6 Garlic Cloves, grated
6 Tbsp Unsalted Butter, cubed
2 tsp Cajun Seasoning
1 tsp Smoked Paprika
2 tsp Black Pepper, freshly ground
4 tsp Worcestershire Sauce
2 tbsp Lemon Juice, freshly squeezed
Grilled Lettuce Salad:
1 Romaine Lettuce Head, halved lengthwise
4 Strips Bacon
2 tbsp Flat Leaf Parsley, finely chopped
Salad Dressing:
100ml Sour Cream
45ml Crème Fraiche
2 tbsp Mayonnaise
6g Fresh Chives, Finely Chopped
½ tbsp (8g) Lemon Juice, Freshly Squeezed
2 tsp (10g) White Wine Vinegar
2g Sea Salt
Garlic tomato bread:
1/2 Large Baguette
Extra Virgin Olive Oil
2 Garlic Cloves
2 Ripe Tomatoes, halved
Method
Soak 6 medium wooden skewers in water overnight or use metal skewers.
Heat up the grill.
In a small bowl, whisk together all of the ingredients for the marinade. Season with salt to taste. Place the prawns and the scallops in a plastic bag or dish and pour the marinade on top. Leave for 1-3 hours.
Mix together the ingredients for the salad dressing and season with salt, pepper and more lemon juice to taste. Set aside in a cool place.
Next, put a sheet of heavy-duty foil on the grill, and place the bacon on top. Cook for about 8-10 minutes, until crispy, flipping as necessary. Place on a cutting board and chop into ¼ inch pieces. Set aside.
Grill the lettuce heads over high heat, until just marked, you want the insides to remain crisp and fresh. Remove from heat and set on a tray.
Skewer the prawns and the scallops (every other: prawn, scallop, prawn, scallop). Reserve the remaining marinade.
Line the skewers up on a tray and then place then on the grill. Baste the remaining marinade over the prawns and scallops and flip as necessary, 3-4 minutes.
Repeat until all skewers are done.
Next, make the garlic bread. Cut the bread in long slices on an angle. Grill until marked. Drizzle with olive oil and rub with garlic.
Place the tomato on the grill, and grill until just softened. Chop the grilled tomatoes and season with salt, then spoon on top of the bread before serving.
Place the lettuce on a plate and drizzle with the dressing, top with bacon and freshly chopped parsley. Serve immediately with the seafood kebabs and grilled garlic tomato bread.