Pitted black olives, feta cheese and melt-in-the-mouth Italian ham. Great for lunch.
Mediterranean Salad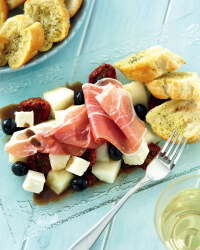 Recipe Information
Ingredients
2 180g packs Garlic Baguettes
½ jar Sun Dried Tomatoes
½ jar Pitted Black Olives
200g pack Greek Style Salad Cheese
120g pack Traditional Italian Ham
250ml Balsamic Dressing
Method
Pre-heat the oven to 200°C/400°F/Gas Mark 6.
Cook the garlic bread as per pack instructions.
Meanwhile drain the tomatoes and olives and cut the cheese into chunks.
In a large bowl arrange all the salad ingredients laying the ham over the top and drizzling over the dressing.
Serve the salad with the hot garlic baguettes.