Mince Pies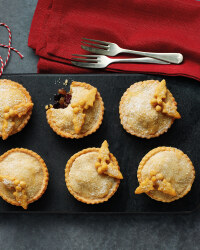 Recipe Information
Ingredients
50ml Apple juice
50g Soft brown sugar
25ml Orange juice
Zest of one orange
50g Natural Selection raisins
150g (1/2 pack) Berry bounty
1/2tsp Ground ginger
1/2tsp Ground cinnamon
200g Flour
100g Butter
50g Light brown sugar
1 Large egg
Caster sugar for decoration
Method
Add the apple juice, 50g soft brown sugar, orange juice, zest, raisins, berries and spices and cook over a low heat until the berries have soaked up the liquid and there is a syrupy texture.
Cream together the butter and the light brown sugar until smooth.
Beat in the egg.
Fold in the flour until the pastry comes together.
Allow the pastry to rest for at least an hour in the fridge.
Preheat the oven to 180°c.
Roll out the pastry on a floured surface until as thick as a pound coin.
Cut out discs of two sizes for the base and top – feel free to use a star or Christmas shape for the top.
Line the mince pie tin with the larger discs.
Add the filling and smaller disc on top.
Sprinkle with caster sugar and cook for approximately 15-20 minutes - until golden brown.