Mochatini Choctail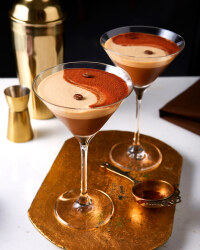 Recipe Information
Ingredients
50ml Tamova Vodka
25ml Dilara Cappuccino Coffee Liqueur
3 tsp Specially Selected Medium Roast Colombian Coffee
60g The Pantry Cocoa Powder
60g Sugar, plus extra to sprinkle
620ml Water
Method
In a small saucepan, boil 250ml water then remove from the heat and add The Pantry Cocoa Powder and sugar. Stir to dissolve and then add 250ml of water.
Once cooled, add the vodka to the mixture and leave to infuse.
Add the coffee liqueur, coffee, infused vodka and 120ml water to a cocktail shaker filled with ice, shake hard for 10 seconds and then finely strain into a martini glass and add a dash of sugar to taste.
Garnish with a sprinkle of cocoa powder.