Marbled cheesecake bars with cinnamon and ginger flavours on a buttery biscuit base.
Pumpkin Pie Cheesecake Bars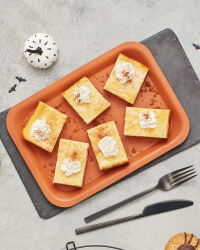 Recipe Information
Ingredients
200g Pumpkin/Butternut Squash Flesh
225g Ginger Nuts
50g Butter
450g Soft Cheese
170g Caster Sugar
30g Plain Flour
80ml Double Cream
3 x Eggs 1 tbsp Vanilla Extract
½ tsp Ground Ginger
1 tsp Ground Cinnamon
To serve
Squirty Cream
Ground Cinnamon
Baking Tray approx. 20 x 35cm
Method
Begin by making the purée by boiling or steaming the butternut squash or pumpkin until soft, then blend in a food processor until smooth – you should have about 150g of purée.
Pre-heat the oven to 200°C Fan/Gas Mark 7 and line the tray with greaseproof paper.
Use a food processor to blitz the biscuits into crumbs. Melt the butter, add to the biscuit crumbs and mix until combined, then line the base of the baking tray with the biscuit mixture.
Bake for 10 minutes until golden, then leave to cool.
Reduce the oven temperature to 160°C Fan/Gas Mark 4.
Place the soft cheese, caster sugar, plain flour, double cream and eggs into a large mixing bowl and use an electric hand mixer or whisk to beat until smooth and fluffy.
Divide the mixture between 2 bowls and add the vanilla extract to one and the purée, cinnamon and ginger to the other, then mix until well combined.
Spoon the 2 mixtures into the baking tray, alternating between each flavour, then swirl using a fork to make a marbled effect.
Bake for 35-40 minutes until the cheesecake has only a slight wobble in the centre but has set.
Leave to chill overnight then slice into 12 and top with squirty cream and a sprinkle of ground cinnamon.