Light and fluffy tiny American-style pancakes served like a bowl of cereal – smothered in maple syrup, of course!
American Pancake Cereal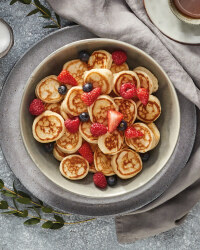 Recipe Information
Ingredients
275g Self Raising Flour
2 tbsp Caster Sugar
1 tsp Salt
1 Medium Egg
280ml Semi-Skimmed Milk
2 tbsp Vegetable Oil
To Serve:
Maple Syrup
Butter
Squeezy Bottle or Piping Bag
Method
Place the flour, sugar and salt in a bowl and mix well.
Add the egg and milk and whisk until smooth.
Pour the smooth pancake batter into either the squeezy bottle or piping bag.
Heat 1 tablespoon of vegetable oil in a non-stick frying pan.
Squeeze small dollops of batter, approx. 1-2cm diameter, into the pan.
After 2 minutes flip over each mini pancake and cook for a further 2 minutes.
Repeat the process until all the mixture is cooked.
Serve the warm mini pancakes in a bowl, topped with a knob of butter and maple syrup.