Classic sausage and mash meal with a sweet potato twist. Make it for the family tonight.
Baked Sausages and Sweet Potato Mash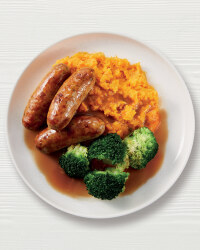 Recipe Information
Ingredients
2 x 400g packs Caramelised Onion Sausages
1kg Sweet Potatoes
1 head of Broccoli
80g Butter
15ml Extra Virgin Olive Oil
A little Milk
300g Gravy Granules
Salt
Method
Pre-heat the oven to 200°C/Gas Mark 6.
Put the sausages in a roasting dish and add 15ml olive oil, then cook for 40 minutes.
Meanwhile, peel the sweet potatoes, cut into large chunks and boil for 20 minutes, until tender, in some lightly salted water.
Drain the liquid from the sweet potatoes and mash them, along with the butter and a little milk.
Cut the broccoli into florets and cook in boiling water for 5 minutes. Drain any excess oil from the sausages. Boil some water to make the gravy.
Ensure sausages are thoroughly cooked and piping hot throughout.
Serve the sausages alongside the sweet potato mash and broccoli, then cover with gravy.