A cornerstone of Welsh cuisine, the rarebit is a delicious snack or starter. This gourmet adaptation is a must-try.
Blue Cheese Rarebit Bites with Baked Honeyed Pears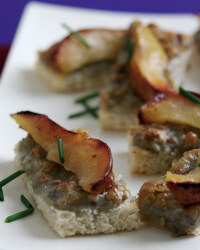 Recipe Information
Ingredients
2 conference pears
2-3 tbsp squeezy honey
Salt
Coarse ground black pepper
2 tbsp olive oil
250g Danish blue cheese, crushed with a fork
3 egg yolks
Dash port 50g walnuts, finely chopped
6 slices bread
Find your ingredients online on Click & Collect or find your nearest store using our Store Finder.
Method
Pre-heat the oven to 190°C, gas mark 5.
Slice the pears in half lengthways, and then scoop out the core with a teaspoon.
Cut a sliver off the bottom of the pear, so they sit nicely.
Drizzle over the honey and oil, and then sprinkle with salt and pepper.
Place the pears into the pre-heated oven and cook until browned and well shrivelled, then cool.
Pre-heat the grill.
Beat the cheese, eggs, port, pepper and walnuts together well.
When ready to serve, toast the bread on one side only.
Then evenly spread the cheese mix onto the uncooked side of the toast, spreading right to the edges.
Place on a baking tray and cook under a medium grill until well glazed.
Remove and cool slightly.
Cut into strips and top with a thin sliver of roasted pear and serve.