A healthy vegan avocado, spinach and tomato salsa sandwich.
Hash Brown Stacks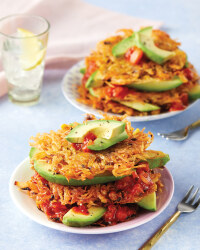 Recipe Information
Ingredients
1kg Maris Piper Potatoes
1 Red Onion
130g tin Sweetcorn, drained
2 Garlic Cloves
70g Plain Flour
1 heaped tsp Paprika
2 Ripe Avocados
40g Baby Spinach Leaves
200g Tomato Salsa
Sea Salt and Black Pepper
Olive Oil
Method
Peel and finely chop the onion.
Peel and mince the garlic.
Peel and grate the potatoes.
Wash the grated potato in cold water 3 times.
Then drain and squeeze as much water as possible from them.
Place all in a bowl with the sweetcorn, paprika and flour, then season well.
Divide the mixture into 12 and into balls, then flatten with the back of your hand to make patties.
Fry in batches in olive oil for 3-4 minutes each side, keeping the cooked ones warm in the oven while you fry the rest.
Cut the avocados in half, remove the stones and scoop out the flesh with a spoon and slice.
Stack 3 hash browns per person, sandwiched with the avocado slices, spinach leaves and tomato salsa. Serve immediately.