Weeknight chicken dish served with naan bread, mango chutney and a cucumber salad.
Indian Spiced Chicken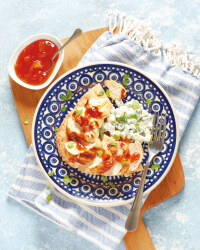 Recipe Information
Ingredients
4 x Chicken Breasts
1 x tsp Ground Cumin
1 x tsp Curry Powder
25ml Lemon Juice
100g Salted Butter – at room temperature
1 x 260g Pack Plain Naan Bread
100g Cucumber
50g Greek Yogurt
1 x tsp Mint Sauce
80g Mango Chutney
Black Pepper
Method
Mix the ground cumin, curry powder, lemon juice and butter together and season with some black pepper.
With a sharp knife cut some criss crosses in the chicken breasts on both sides, make sure you don't cut straight through.
Put the butter mix in a small metal container on the BBQ to allow the butter to melt.
BBQ the chicken breasts, brushing with the butter as you cook for 6 to 7 minutes on each side.
Meanwhile, chop the cucumber finely – mix with the yogurt and the mint sauce in a bowl.
Cut the naan breads in half and place on the BBQ to warm through.
Serve each chicken breast ontop of a slice of the naan bread alongside the chutney and raita.