Rich, warming and luxurious.
Je t'aime Coffee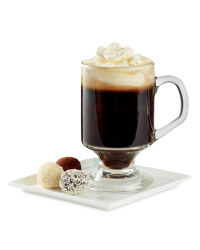 Recipe Information
Ingredients
10ml Bellucci Amaretto
10ml Napoleon Brandy
1 heaped tsp Instant Coffee
150ml Boiling Water
1 tsp Sugar
35ml Double Cream
Find your ingredients online on Click & Collect or find your nearest store using our Store Finder.
Method
Put the amaretto and brandy into a strong glass.
Add the sugar and instant coffee.
Pour over the boiling water and stir well.
With a spoon stop the movement in the glass – so that the coffee is still.
Pour the cream slowly over the back of a spoon onto the coffee – so that it sits on the top.