Sunday leftovers are your friend! Try these Yorkshire pudding turkey wraps and find out why.
Leftover Yorkshire Pudding Turkey Wrap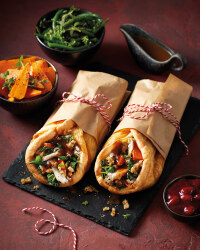 Recipe Information
Ingredients
3 X Medium Eggs
150g Plain Flour
300ml Semi Skimmed Milk
50ml Sunflower Oil
250g Sliced Cooked Turkey
400g Leftover Vegetables
250g Leftover Stuffing
Leftover Gravy
Salt and White Pepper
1 X Shallow Roasting Tray 25 X 40cm
1 X Baking Sheet
Method
Pre-heat the oven to 220°C/Gas Mark 7.
Beat the eggs and milk together.
Sieve the flour into a bowl and make a well in the centre.
Gradually add the egg mixture, beating as you do, to form a smooth batter.
Season with some salt and pepper and allow to stand for 30 minutes.
In the meantime, chop the vegetables into small chunks.
Put the oil in the roasting dish and place in the oven for 5 minutes to heat up.
Layer the vegetables on a baking sheet, add the sliced turkey, then cover with foil.
Carefully remove the roasting tray containing the oil from the oven. Remove the oil from the tray, pour in the batter, then place on the top shelf of the oven.
Place the vegetables tray on the bottom of the oven.
Cook for 30 minutes (until the Yorkshire pudding is puffed up and golden), then remove both trays.
Crumble the stuffing over the Yorkshire pudding, then add a layer of vegetables and turkey.
Carefully roll up.
Pop back in the oven for 5 minutes while you warm up the gravy.
Serve immediately.