Total cost:

£

10 -

£

15
Baked ham with a sweet, fruity topping – great served hot or cold.
Maple Pomegranate Glazed Ham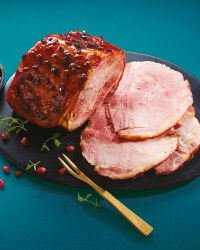 Recipe Information
Ingredients
1.3kg Gammon/Ham
160g Pomegranate Seeds
125ml Maple Syrup
1 tsp Dijon Mustard
½ tsp Ground Ginger
Method
Pre-heat the oven to 180°C/350°F/Gas Mark 4.
Remove the meat from its packaging and place in a baking dish.
Cover loosely with foil and bake for 120 minutes.
Meanwhile, put the pomegranate seeds and the syrup in a small saucepan and slowly bring to the boil.
Cook for approx. 7 minutes, until thickened.
Take the pan off the heat and stir in the mustard and ginger.
Once the meat is cooked, remove from the oven and spoon the pomegranate glaze over the top.
Cook for a further 30 minutes, continually basting.
Serve hot or allow to cool.