This simple homemade recipe makes a delicious Tandoori chicken marinade.
Marinated Tandoori Chicken Legs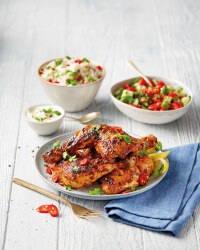 Recipe Information
Ingredients
2kg Chicken Legs
30g Fresh Ginger, peeled
4 Garlic Cloves
2 tsp Cumin
1 dsp Curry Powder
2 tsp Chilli Powder
2 tsp Paprika
1 tsp Ground Cinnamon
200g Full Fat Plain Yogurt
Juice of 1 Lemon
Method
Pre-heat the oven to 200°C/Gas Mark 6.
Peel and mince the garlic into a bowl.
Grate the ginger and add to the bowl.
Add all the spices, the lemon juice and yoghurt.
With a sharp knife cut some deep slashes in the chicken legs.
Place the chicken in a dish and pour over the yogurt mix, rubbing it into the cuts of the chicken.
Cover with some cling film and leave to marinate in the fridge for a least 3 hours or overnight.
Put the chicken legs flat onto a baking tray or ovenproof dish.
Drizzle over any marinade left in the bowl.
Bake in the oven for 35 minutes until browned and crisp.