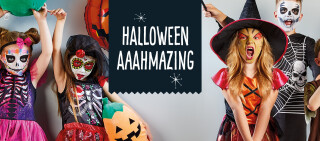 Everybody, get to Aldi for an aaahmazing Halloween
We're big fans of fright night, so this Halloween at Aldi you'll find everything you need to have a terrifying time! From creepy costumes for you or your little devils to spine-chilling ideas to put on the most petrifying party, we've got it covered – together with trick or treat sweets or something a little healthier, with our frighteningly tasty recipes.
Freaky fancy dress ideas
Whether you're throwing a monster bash for the kids or taking them trick-or-treating, there's nothing like dressing up to get in the spirit of Halloween. And at Aldi, you'll find all you need!
Home is where the horror is
From decking out your doorway and ghouling up your garden, to dressing your house for a horror party, check out our handy hints and tips page for a whole host of amazing decor ideas.
Halloween treats with a twist
Halloween doesn't always have to be about sweets and treats! Here are some great new recipe ideas that put the fun into fright night, but with a healthier twist.