Succulent chicken roasted in a white wine and paprika stock and stuffed with gorgonzola.
Piedmont Chicken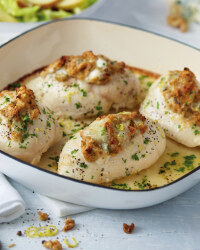 Recipe Information
Ingredients
4 x Chicken breasts
120g Specially Selected Gorgonzola
2 x slices White Bread
60ml Milk
1 x tsp Parsley
½ tsp Paprika
Black Pepper
100ml White Wine
For the Salad
1 x Little Gem Lettuce
2 x Braeburn Apples
2 x sticks Celery
4 x Spring Onions
40g Walnuts
Lemon Juice
A little Olive Oil
Method
Pre-heat the oven to 200°c/400°f/Gas Mark 6.
Put the sliced bread in a bowl and pour over the milk – leave for about 5 minutes.
Meanwhile, chop the cheese into small pieces – put in a bowl along with the parsley and the paprika, season with some black pepper.
Break up the bread with your fingers and add to the cheese mix – mix well.
Divide into 4 and make each portion into a sausage shape.
Make a slit in the top of each of the chicken fillets – stuff the cheese sausages into each of the chicken breasts.
Put them in a baking dish and sprinkle over the wine – bake for about 15-18 minutes.
Meanwhile make the salad – wash the lettuce – trim and dry well.
Core and thinly slice the apples – toss in a little lemon juice to avoid them going brown.
Finely slice the celery.
Wipe, trim and slice the spring onions.
Fry the walnuts in a little oil for a minute – until just browned.
Mix all the salad ingredients together and serve alongside the chicken.