Roast chicken dinner with a delicious Mediterranean twist.
Piri Piri Chicken with Vegetable Rice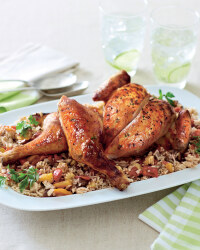 Recipe Information
Ingredients
1.1kg British Piri Piri Spatchcock Chicken
300g Bilash Long Grain Rice
Heaped tsp Stonemill Dried Basil
Heaped tsp Stonemill Chilli Powder
250g pack Baby Plum Tomatoes
135g pack Baby Corn
250g pack Chestnut Mushrooms
280g jar Cucina Grilled Peppers, drained
Salt and Black Pepper
1 tbsp Solesta Olive Oil
Find your ingredients online on Click & Collect or find your nearest store using our Store Finder.
Method
Pre-heat the oven to 200°C/400°F/Gas Mark 6.
Cook the chicken in the oven as per the instructions on the pack – approximately 70 minutes.
When the chicken is almost cooked, cook the rice as per the instructions on the pack, but add the dried basil and the chilli powder to the cooking water.
Then chop the mushrooms and baby corn into small pieces.
Saute with some olive oil in a large frying pan or wok for 3-4 minutes.
Meanwhile, chop the tomatoes and peppers into small chunks, add to the mushroom mix and cook for another 2-3 minutes.
Then add to the cooked rice, mix well and season with salt and black pepper – serve the chicken on a bed of the vegetable rice.